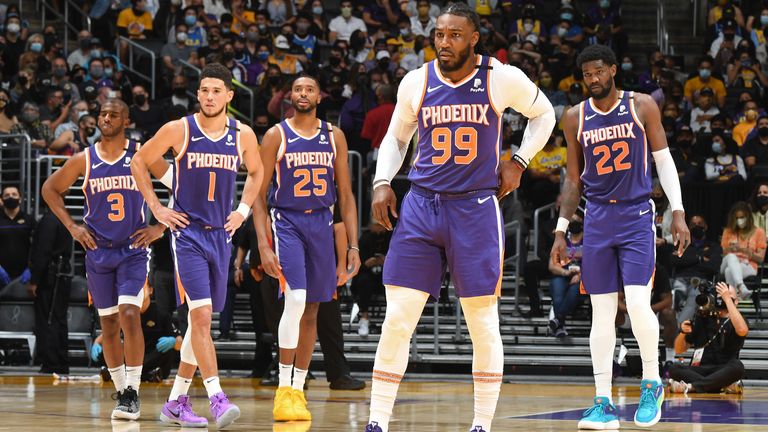 Milwaukee v Phoenix – just like we all thought… right?
Perhaps not, unless you were that guru on Twitter who correctly guessed this match-up a long time ago, but there's genuine beauty in seeing these two teams clash for the 'chip.
Milwaukee are the small market team who have endured a couple of playoff heartbreaks to make it to the big dance – despite the fact they've played without two-time MVP Giannis Antetokounmpo.
The Suns have seemingly come from nowhere. In last season's NBA Bubble in Orlando, they went undefeated but ultimately missed the playoffs. But the tone was set and they were a team on the up.
Enter Chris Paul.
It took folks a while to wake up to the impact CP3 was having in the desert but it seems everyone is on the bandwagon now. Devin Booker and Deandre Ayton deserve plenty of praise for Phoenix's rise as well, as does coach Monty Williams.
Tomorrow, these two upstarts clash as the 2021 NBA Finals commence.
Let's find the winner!
WHY PHOENIX WILL WIN;
These Suns have been irrepressible from the outset.
CP3's arrival has catapulted them onto this stage but good judges will know Devin Booker has been on a path to stardom since he entered the league from Kentucky.
Deandre Ayton's growth throughout these playoffs could be the final piece needed to acquire the Larry O trophy. Ayton mauled Los Angeles in the West Finals and he should give the Bucks problems, particularly on the offensive glass.
Jae Crowder brings toughness and defence, along with timely three-point shooting whilst Torrey Craig – of Brisbane Bullets and Cairns Taipans fame – is another long defender off the bench.
Cameron Payne is as good a reserve point guard as there is in the NBA whilst Mikal Bridges and veteran Dario Saric also provide plenty where their times comes on the hardwood.
Stars win rings in the NBA and it's easy to foresee three things happening for Phoenix;
1 CP3 controls the pace and makes the right play 9/10 times.
2 Devin Booker explodes offensively. His shooting numbers have not been awesome throughout the playoffs but he's got that DNA that makes him a killer when it counts.
3 Ayton can be the man in the middle. He's efficient, dominant and beginning to believe just how good he is.
These Suns are deep, are laden with playmakers and have home court advantage – which is worth plenty in Phoenix Suns Arena… imaginative name, hey!
WHY MILWAUKEE WILL WIN;
In the absence of Giannis, others have stepped up to the fore. Khris Middleton has verified his All Star status, Jrue Holiday has shown why the team sent Eric Bledsoe packing and Brooke Lopez has turned back time – with some added defensive prowess – to surge Milwaukee to the last two.
Antetokounmpo's return is crucial. People want to knock his late-game performance when he struggles to make free throws and often takes open threes… you're open for a reason big man!
The Greek Freak is a dominating force for much of the game. Leave the clutch shooting to Middleton, but Giannis is a glass-muncher, protects the rim and demands an enormous amount of defensive attention – allowing others to take and make open shots.
Holiday's defence on Paul will be key.
The former Pelican possesses length, quickness and size which will be needed to curtail the significant influence of Paul as a playmaker and scorer.
Paul has been unstoppable in the middle pick-and-roll as a scorer but Holiday has the required skills to make him earn every bucket.
PJ Tucker brings the same toughness and corner shooting that Crowder does for Phoenix. He can also take turns at defending Booker.
Lopez's rim protection and occasional scoring flurry will be huge should Giannis miss ball games.
Milwaukee's major chance is to steal one of the opening two games in PHX before heading home to ride the home crowd in Wisconsin.
WHO WINS…
Phoenix are the overwhelming favourites, with or without the presence of Antetokounmpo. They arguably possess the three best players on the court (in the absence of Giannis) in Paul, Booker and Ayton.
Paul will have to earn his keep with Holiday in his grill and Ayton will be a focus for the Bucks on the boards but D-Book is the ace in the pack.
I like him to average 30 throughout the series and claim the Bill Russell trophy as Finals MVP.
SUNS 4, BUCKS 2
Devin Booker Finals MVP averaging 30+ppg