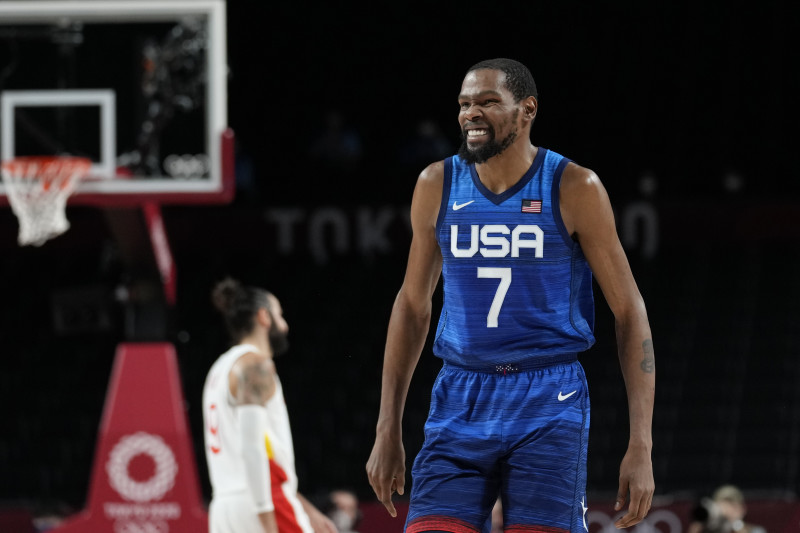 We are right back to where we began.
And no, I'm not talking lockdowns… 😦
I'm talking about July 25th, when we kicked off the men's Olympic basketball schedule and the mighty red, white and blue got the tournament off to a spectacular start.
One small hiccup was that another red, white and blue team also lost on day one. And that team was the giants of world hoops, the United States of America.
The French outfit dismantled the powerhouses from North America, going on a 25-11 third quarter tear to overrun the Americans who looked out of sync, out of condition and downright disinterested.
Evan Fournier was rampaging, draining everything he threw up, ending with 28 points whilst three-time Defensive Player of the Year winner, Rudy Gobert, had 14 and nine boards.
Almost two weeks to the day later, America will get its shot at redemption against the French.
Team USA overcame an 11-point deficit against our Boomers to explode for a convincing and dominant 97-78 win. In the other semi, Slovenia and France went back and forth and in the final seconds, France's NBA swingman Nic Batum blocked a potential game-winning lay-up – sending France into the gold medal game.
Despite the July 25 result, USA enter as red, white and blue hot favourites but France have to fancy themselves. Here's why both can win and why both cannot;
WHY USA CAN WIN;
Basically, because they always do.
Also, they have one of the greatest individual scorers of the basketball in Kevin Durant and his tournament has been building towards this moment. He kept his team in the game early against Australia, scoring 15 in the first half.
Jrue Holiday's emergence as the second-best player on this team has been surprising but crucial for the Americans. Gregg Popovich has turned to Holiday to defend some of the world's premier guards, including Patty Mills.
The recent championship winner with Milwaukee will have his eyes fixed on Fournier to ensure there's not a repeat of the 28-point opening day performance.
Add in cameos from Devin Booker, Jayson Tatum, Damien Lillard and Khris Middleton and American has more than enough offensive weapons to get the job done.
WHY THE USA COULD LOSE;
At times throughout the Olympics, Team USA has played incredibly lacklustre basketball. Lillard has looked out of sorts, Tatum has shot the ball inconsistently and teams have been able to clean the glass and get easy baskets against them, without anything resembling a rim presence.
France were able to wear down USA, getting the ball inside to big Rudy. There were occasions where the Americans just stood around powerless to prevent Gobert from going up and scoring at the cup.
When they turn up the heat, their defence is sensational but there are clear flaws in the Yanks' unit, primarily on defence inside the paint.
WHY FRANCE CAN WIN;
They can win because they believe.
They believe because just two weeks ago they beat this same opponent.
Gobert, Batum, Fournier and De Colo are current or former NBA starters, so they fear no one. Batum can make life somewhat difficult for Durant and Gobert will be living in the key protecting the basket.
Outside shooting will be a major difference.
De Colo is running at 47% from outside the arc, whilst Fournier and Batum are both north of 40% as well.
WHY FRANCE CANNOT WIN;
Largely because they're facing one of the most dominant and powerful sporting organisations on earth but also because Team USA are now fully engaged.
The way they flipped the switch against Australia was stunning.
KD can score whenever he likes. Holiday locks people up. And the other 10 on the roster are all elite level individual talents. I'd also expect more from Lillard with a gold medal at stake.
Pace of the game will be vital. Should America get its run and gun game going and France are forced to go small, benching Gobert, then that is major major advantage to USA.
You feel like Rudy needs to be the dominant man on the hardwood for the French to steal gold.
PREDICTION;
France may start hot but ultimately this could be a major blowout.
American will be filthy with losing their opening game to France.
I can see things getting ugly from midway through the 2nd quarter…
TEAM USA 103
FRANCE 80